A MOOC + podcast service for low-income
young mothers
The Research and Advanced Engineering group at Ford Motors approached us to reimagine the 'future of mobility'. Specifically, our team was tasked to focus on the delivery of goods and services, in areas of healthcare delivery, food penetration, or education.
Design perspective: Our goal was to increase the accessibility of goods and services to underserved and low-income individuals and communities. We narrowed our research down to focus on low-income young mothers.
We began our exploration with talking to young mothers, as well as their support team in their household and community. That led us to many public services they rely on, which are provided by their state government.
Synthesis & insights: After the research phase, we shared our findings with the Ford stakeholders. Along with the debrief, we visually mapped out all the pain points of a young mother's daily life.
Here on the left, we wanted to hammer in the fact that:
Free, public services have many limitations, including available hours or locations
Accordingly, these free services come with heavy, invisible cost of time and energy,
and this invisible cost carves out time from an already tight schedule
Below you can see what a typical day looks like for one young mother.
Ideation & Workshopping: Beyond the research phase, we facilitated a stakeholders' workshop for Ford Motors representatives and our peers in order to further immerse them into the shoes of our user—low-income young mothers. We came up with a fun and stress-inducing workshop, where we asked our participants to learn a new language via Duolingo, interspersed with doing different physical errands around the room. The goal was to make the participants feel what it's like to be a young mother that has to juggle a child, a job, and going to school.
At the end of the workshop, we co-created a range of ideas and concepts that addressed our research findings.
Our primary user group of low-income mothers, with their packed schedule and tight budgets, often feel like they have very little control in their lives. How might we give low-income young mothers more agency over their new role in life?
In the early days of being a mother, there's an opportunity to provide pragmatic assistance services or helping them further their education/career.
Accessibility to WIC and public services
Help with day-to-day tasks (ie: child care)
Counseling Services around motherhood, career, and mental health
Education and Future
We came away with three clear design opportunities. Each narrowing down on one particular pain point of these young women's lives.
Design & Execution: We decided to dive deeper in the educational space. We believed that in order for young mothers to support their new family and improve their socioeconomic standing, it's imperative for them to finish or continue their education.
One of the biggest pain points for a low-income mother is her packed schedule. Between taking care of her child and having a job, it is difficult for her to attend school and go to class on a pre-defined schedule. An observed area of opportunity is her daily commute, a pocket of time during which we can enable her to be more productive.
We wanted to focus on giving these women a hope for the future. Using their commute or "mobile" time in a more productive way to empower them at a time when they feel helpless and depleted of energy and resources.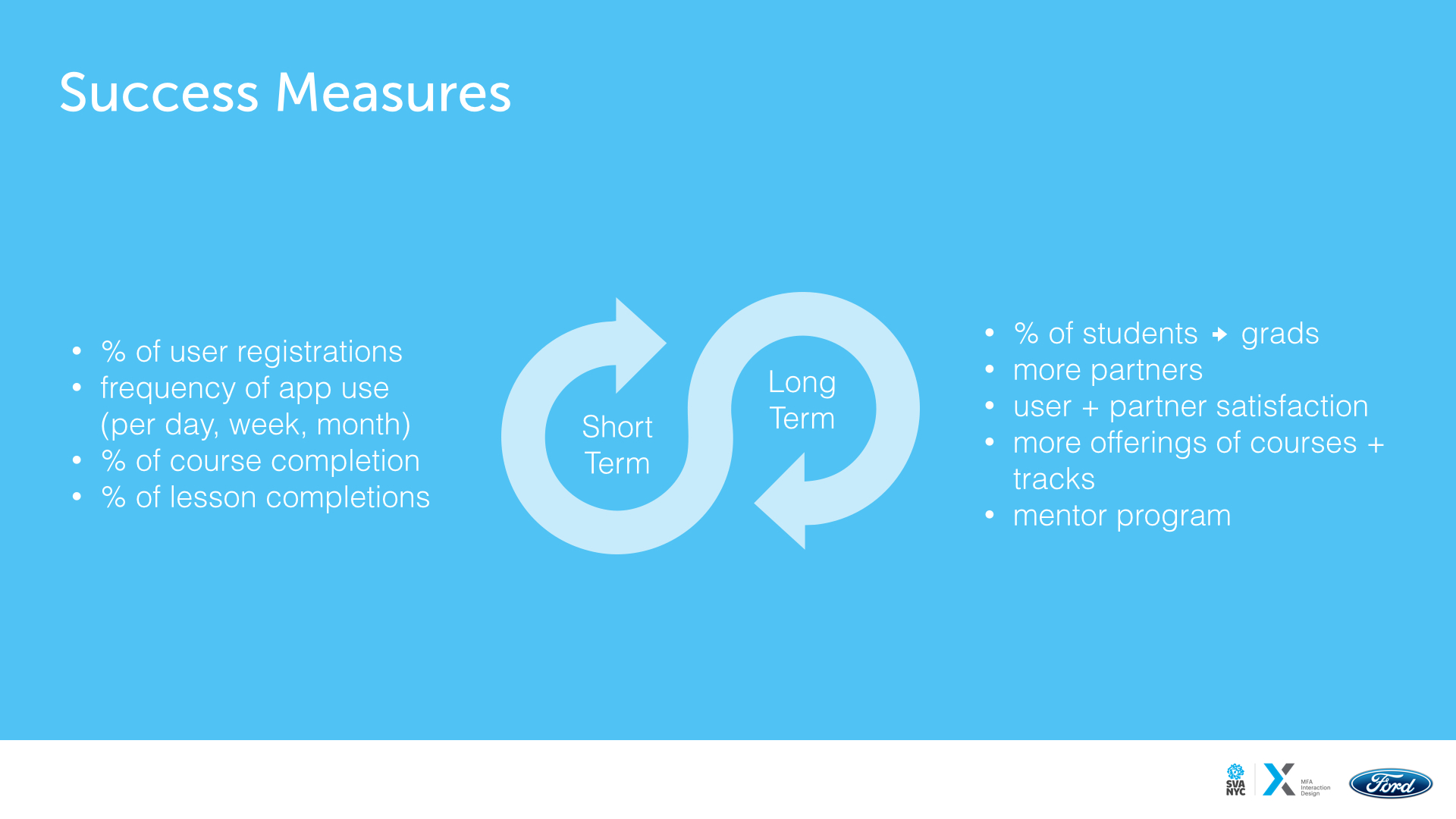 Key features: Machine learning (of her schedule), adaptable courses, adaptable courses, supplemental materials (other forms of communication within the system), check-ins for drop offs and geo-location of peer network to keep each other motivated.